"Aloha Ke Akua" means "God is Love." This is the basis, hope, and goal of our ministry: to be able to witness indigenous people everywhere knowing that God truly loves them. This is something that has never really hit home for so many . . . even after hearing about Jesus many times.
Aloha Ke Akua Ministries is all about the Love of God. "I am my beloved's and my beloved is mine:" Song of Solomon 6:3. As Indigenous people, we need to embrace God as ours, and also know that God embraces us as His . . . just as we are.
Our goal is to provide indigenous people, missionaries and Christians with information, training and materials that show the true nature of Jesus; that his way is not to be a foreign religion that destroys people groups and their cultures, but one that brings people groups and their cultures to their highest fulfillment.
To facilitate the reconciliation of indigenous peoples to their Creator and His Son, Jesus Christ, in the spirit and truth of the way He made them.
To facilitate the reconciliation of indigenous peoples to their Creator:
The Creator God of the Bible is not a foreign God. He loves indigenous people and has been a part of their history and culture from the beginning.
To facilitate the reconciliation of indigenous peoples with Jesus Christ:
Jesus Christ is the Son of the Creator of all people and He loves all people equally. To let indigenous people know that any atrocities that have been perpetrated by the church, "Christian" nations, or Christians were wrong and did not come from Jesus.
To facilitate the reconciliation of indigenous peoples with whom they are in Christ:
To let indigenous people know that God lovingly created them exactly as He wanted them; that He has been with them and loved them throughout their history, that He left many treasures and worthy traditions within their culture, and that He desires they freely worship Him with, and celebrate, the beautiful and unique cultural expressions that flow from them.
To facilitate the reconciliation of indigenous peoples with the Body of Christ, His church:
To repent of any atrocities that have been perpetrated by the church, "Christian" nations, or Christians; to teach Christians of the need to repent of these atrocities and to recognize, respect, appreciate, and celebrate the unique and indispensable gifts each people group brings to the Body of Christ so that indigenous peoples and the church can truly be in unity and become the many unique parts of the one Body of Christ.
ALOHA KE AKUA MINISTRIES is a non-demominational, religious non-profit corporation registered in the State of Hawaii.
Aloha Ke Akua Founders and Spiritual Oversite Committee:
Rev. Daniel and Yolanda Kikawa, Rev. David and Laurie Kahaipo, Leon Siu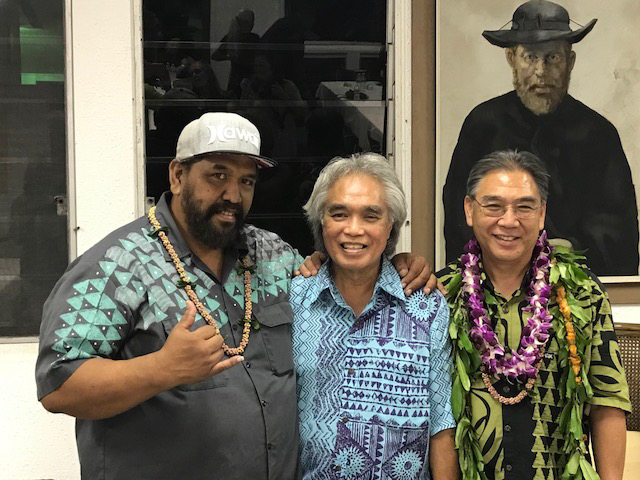 Rev. Kawika Kahiapo
Founder
Besides being a recording artist and an ordained minister, Kawika is on the Kokua Hawai'i Foundation board, a non-profit organization that supports environmental education in the schools and communities of Hawai'i. Kawika also serves on the North Shore Community Land Trust board. Kawika was featured on the Grammy Award Winning CD, "Masters of Hawaiian Slack Key." A multiple Na Hoku Hanohano award winner, Kawika has contributed his musical talent to some 108+ recording projects and has collaborated or performed with artists such as Jack Johnson, Kaukahi, Palani Vaughan, Melveen Leed, Brother Noland, Leon and Malia, Kawehi Lindsey, Jesse Rivera, Kapena, Pierre Grill, Na Leo Pilimehana, Kelly Boy Delima, Del Beazley,  Native Hawaiian Band ,Cyri Pahinui, Amy Gilliom, Dennis Kamakahi, Daniel Ho, Paula Fuga, Martin Pahinui, Rene Paulo, and Walt Keale. Serving Ke Akua and others are a priority, and is reflected in Kawika's lifestyle and music.
Leon Kaulahao Siu
Founder
Leon is of Hawaiian and Chinese ancestry. He hails from a small fishing village on the island of Hawaii. He was educated in the fine arts and is an accomplished composer, musician, artist, educator and diplomat. He is a lecturer on Hawaiian culture, history and contemporary issues. Leon is an astute participant, analyst and strategist in the political arena and has received international awards and recognition for his work in affecting public policy. He has also been a Hawaii contact and contributor to the Washington Times, the Wall Street Journal, Huffington Post and the International Diplomat. He was nominated for the 2017 Nobel Peace Prize and in June 2017 he received the Gold Medal "UN Peacemaker Sergio Vieira de Mello" awards from the International Parliament. In 2016 he received the Knights Grand Cross Award of the Royal Order of Kamehameha I, the highest honor conferred by the Hawaiian Kingdom beginning in 1865.
Rev. Daniel Kikawa
Founder
Daniel is the president of Aloha Ke Akua Ministries, a ministry to indigenous peoples. His mentor is Don Richardson. Daniel is also the Senior Pastor at Hilo Missionary Church in Hilo, Hawaii and the Kaimu Hale Pule (Hawaiian Church) in Kalapana, Hawaii. Daniel has been researching cross-cultural issues for over 35 years. His materials are being used in missionary schools and Bible colleges worldwide and he has taught at conferences, seminaries and churches on every continent. London Theological Seminary, The University of the Nations, and many other seminaries have been granted permission to use examples from his book, The "Cross-Cultural Evangelism Game," in their missiology classes. Fuller Theological Seminary is also using portions of this book in the course "Serving and Communicating Cross-Culturally." Daniel has written two other books, "Perpetuated in Righteousness" and "God of Light, God of Darkness," both books are about God's hand in Hawaiian history and culture. Recently, Daniel has been asked to consult with pastors and Christian leaders across Hawaii to help them understand the situation on Mauna Kea. Daniel has produced three indigenous music CDs, two International Telly Award winning films, "God's Fingerprints in Japan 1 & 2," and Co-Produced a film for the Santal people of India with Create International. He was also a cultural consultant for Create International for a film for the Okinawan people. Daniel has been blessed to spend time with Native peoples from across Polynesia and the Americas, in the Amazon, with Khoisan Bushmen in the Kalahari Desert, the Santal people of India, the Karen in Thailand and many others.
Aloha Ke Akua Ministries Board of Directors:
Rev. Daniel Kikawa
President
Rev. Yolanda Kikawa
Secretary
Rev. John Trusdell
Vice-President
Rev. Ken Tomita
Treasurer
Advisory Board:
Rev. Herbert Hoefer, Ph.D.

 

– Dr. Hoefer served for 15 years as a missionary of the Lutheran Church-Missouri Synod to India. He currently is Professor of Theology at Concordia University, Portland, Oregon, and LCMS Area Director for India and Sri Lanka. He is the chairman of the Rethinking Hindu Ministry Forum. His writings have been primarily on the subject of faith and culture, most notably in the book Churchless Christianity about the non-baptized believers in Christ in India. He has written articles for Missions Frontiers magazine (US Center for World Missions).
John Dawson

 

– John is the author of the best-selling book, Taking Our Cities for God and the groundbreaking, Healing America's Wounds. He is the president of YWAM (over 15,000 full time staff and over 100,000 short term missionaries yearly in over 600 mission bases in more than 150 nations, founder of the International Reconciliation Coalition and a member of the Board of Regents of the University of the Nations (A Bible college with over 277 campuses in 98 nations, 51 languages and 14,000 students from162 nations annually) 
Island Breeze Hawaii Board

 

(Tom and Becky Fernandez, Peni and Paoakalani Patu, Kealoha and Taimane Kaopua, Sione and Leinaala Fruean, Eruera Kawe) – Island Breeze has a worldwide ministry and has been a pioneer in Culture Specific Evangelism since the late 1970s. Island Breeze has been a part of helping well over a 100,000 indigenous people come to know Jesus. 
Joseph Ozawa, A.B., M.A.T., Ph.D. – With two degrees from Harvard University and a Ph.D. from the University of Southern California, Dr. Ozawa is a licensed clinical psychologist in Hawaii and California. In Singapore, Dr. Ozawa was a Senior Psychologist with Asia Pacific Mission, Ltd.  He was the Senior Director of the Family and Juvenile Justice Centre and Director of Psychological Services at the courts of Singapore as well as Head of the Psychological Services Unit at the Ministry of Community Development; in addition, he was a Senior Consultant Psychologist to the Ministry of Education of Singapore. He has consulted as a Psychologist in over 20 nations. He has ministered in over 30 nations and has been a consultant to World Vision International for 13 years in over 18 nations. He has been a lecturer at Bible colleges in the USA (including Fuller Theological Seminary), Singapore, and Hong Kong.
Rev. Mark Blair, M.A.R., Th.M.

 

– Director, International Christian Fellowship Almaty, Kazakhstan  
 M.A.R. and Th.M. Westminster Theological Seminary
 Professor of Theology, Church of Uganda (Anglican), 1983-90
 Pastor of Haili Church, 1991-97
 Missionary to Kazakhstan, since 1998.
 Visiting Professor, Central Asian Theological Seminary
 Former Director and Professor, Kazakhstan Evangelical Christian Seminary
Rev. Sam Webb, Ph.D.

 

– President of Grace Bible Ministries International, a network of churches and ministries in Hawaii, the U.S. mainland, and abroad. Five years as a missionary to Guam from 1972-77. Since 2001 – International Apostolic Team of Morning Star International  
Terry LeBlanc, PhD, D.D.
–
 Executive Director, Indigenous Pathways, Founding Chair, Director, NAIITS: An Indigenous Learning Community*  (Native American – Mi'kmaq/Acadian)  – Terry is a leader in the Native American and indigenous movement worldwide. 
Kawewehi Pundyke

 

– Kawewehi is a Christian and a Hawaiian Cultural leader.
George Kaimiola

 

– Hawaiian Historian with a ministry for Hawaiians and Polynesians. Educates the church and Hawaiians alike on Hawaiian history. He is a Historian at the Bailey House museum and for the Lahaina walking history tours.
Rev. Junji Ono, S.T.M. (Japan) – Rev. Ono is a divisional supervisor, Hawaii District, of the Foursquare denomination for Japanese house churches. He is one of the co-producers of "God's Fingerprint in Japan" and is a professional interpreter.
Rev. Jorie and Christie West

 

(Native American) – Jorie and her daughter Christie (Cherokee/Creek), perform as Sayani , their first CD, Nvda Sunalei, was nominated for the Native American Music Awards, Hoku, and Indian Summer Awards. They have a ministry to native peoples.
Kenneth Wong, J.D.

 

– Attorney and Christian leader, Ken advises us on legal matters.
Shanette Martin

 

– Shanette directs a successful ministry to the Colored community in South Africa.
Tom Hallas

 

– Tom is a member of the Global Leadership Team (GLT) for YWAM and has been YWAM's Field Director for Asia & the Pacific since 1980. He has been a missionary for 34 years. 
Donna Jordan

 

– YWAM Associates International. Donna is a sought after speaker and counselor to missionaries world-wide.
Fay Williams

 

– Missionary for over 30 years, author of The World in Their Hearts.
David Garratt

 

– World renowned music producer and worship leader. Founded Scripture in Song publishing and New Sound publishing.
Rev. Francis Oda, Arch.D.

 

– Senior Pastor of New Life church (Grace Bible International) and Hawaii business leader.
Lissa Paresa

 

– Lissa is a former Miss Aloha Hula and leader of the Glad Tidings Church (AOG) halau. 
Rev. Paul Otoko

 

– Paul is a leader in the Micronesian community.